Welcome to the second edition of the DPNZ Newsletter
Welcome to the second edition of the DPNZ Newsletter.
Coming to you before every Pro Tour Weekend with all the need to know information.
This Weekend
DPNZ Winmau Pro Tour 5 & 6
Sun City Darts, Nelson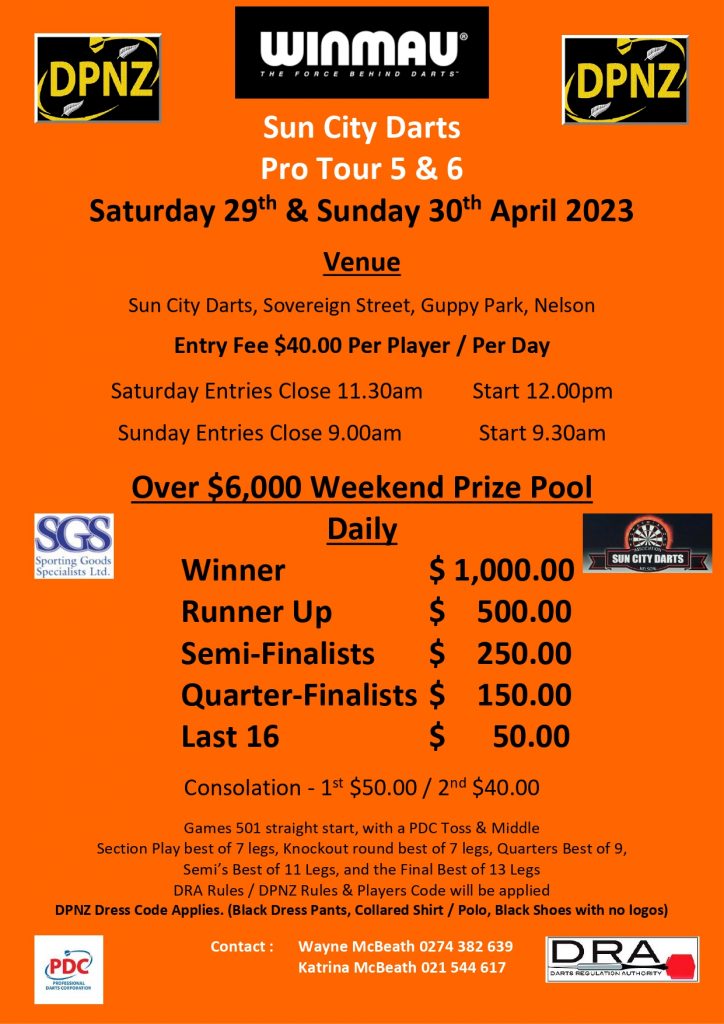 DPNZ Dress Code
Players must adhere to the DPNZ Dress Code
Black Dress Pants (No Jeans or Cargo Pants or Track Pants)
Black Skirt – is fine for the ladies
Collared Shirt – Polo or Dress Shirt but must have a collar
Black Shoes – NO visible coloured logos, must be completely black, no other colour on them will be accepted.
We have had a few players of late trying to flout the rules and it's not fair on those who do comply.
Please guys all we ask for is consistency.
Sun City Darts – Venue Need to Know:
There is Eftpos at the Venue
Food will be available both Saturday & Sunday (heres a sneak peak of some of the options available)
Ham Salad and Chips
Hot Meat Sammy
Fish Salad and Chips
American Hotdogs
Fish
Chips
Sausages
The premises have been refurbished over the last few months so the venue is looking sharp and fresh.
Friday 28th April at Sun City Darts Club, we're holding a drawn pairs tournament.
Report 7pm with 7.20pm start. $30 entry per pair.
Dart Connect
DPNZ now use Dart Connect for all tournaments that we run, the ipads are easy to use, so don't be afraid of the technology, there are plenty of players that can show you how to use this fantastic system.  It's very simple and means everyone and anyone can watch matches from anywhere in the world.  Players also get all their statistics from each game.
This is a fantastic edition to the DPNZ tournaments.
Dart Players New Zealand – Darts & Parts Shop
We will have our full shop at the Sun City Event – Reasonably Large Selection of products.
Flights
Stems
Dart Cases
Polo Shirts – James Wade, Michael Smith, Kyle Anderson, Russ Bray, Discontinued DPNZ Merchandise
Darts
About Author