Welcome to the fourth edition of the DPNZ Newsletter.
Coming to you before every Pro Tour Weekend or in this case New Zealand & NSW Darts Masters Qualifiers with all the need to know information.
Ticket Link available here: https://bit.ly/Hamilton23
Get in and see the stars of the PDC on the New Zealand Stage.
A great weekend not to be missed.
This Weekend
DPNZ Winmau PDC World Series – Qualifiers
Black Horse Hotel, Christchurch
Players must be 16 years and over to play,  this is an open tournament.
No ranking points are given at this event.
The PDC announced an extra position for a New Zealand Player at the New Zealand Darts Masters, so at the end of the two qualifiers this coming weekend the next highest ranked player off the DPNZ rankings will take this place.
Ben Robb and Haupai Puha have already qualified as New Zealands ranked one and two.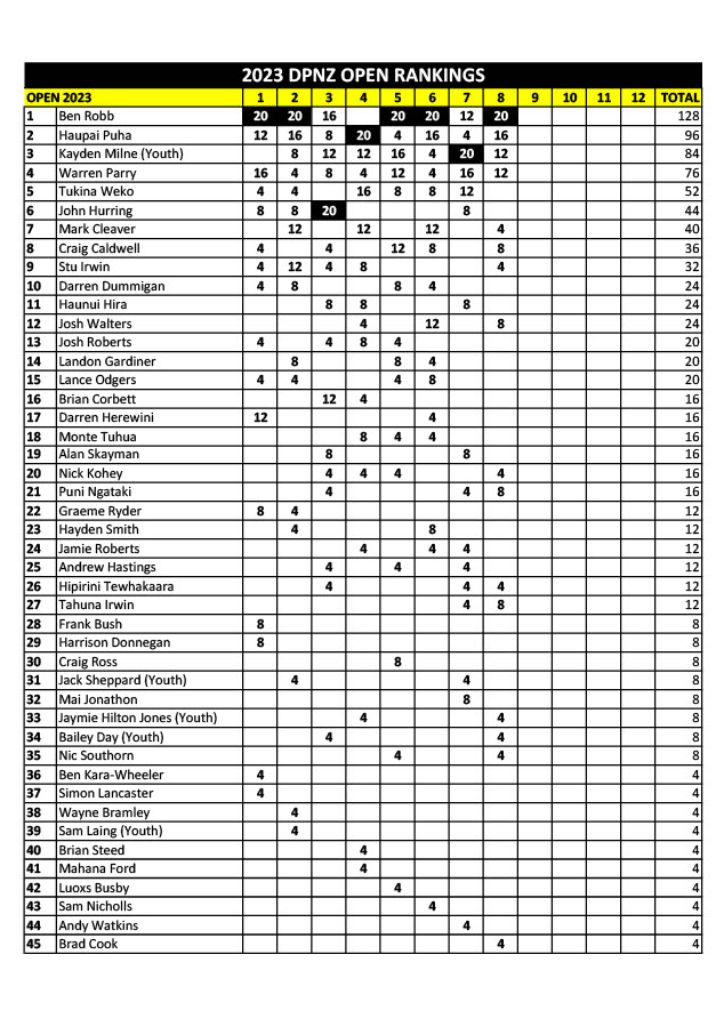 Who will take that third place? It all hinges on Kayden Milne and if he chooses to play this weekend or not. All will be known on Sunday evening when the qualifiers are complete.
Fantastic that we will have Five Kiwi's on our home stage. Good luck to everyone vying for a win this weekend. There will be some tough competition
Reigning champions return for NZ Darts Masters & NSW Darts Masters
Gerwyn Price and Jonny Clayton will defend their titles when the World Series of Darts returns to New Zealand and Australia in August, with Nathan Aspinall and Danny Noppert set to visit Down Under for the first time for the double-header in Hamilton and Wollongong
The PDC's annual trip Down Under begins with the New Zealand Darts Masters at Hamilton's GLOBOX Arena on August 4-5, before the PalmerBet New South Wales Darts Masters takes place a week later in Wollongong on August 11-12.
Former US Masters champion Aspinall's invitation comes on the back of a return to form in 2022, reaching the finals of two televised events before competing in the 2023 Premier League – where he narrowly missed out on a Play-Off place.
2022 UK Open champion Noppert has been rewarded for the consistent form which has seen him break into the world's top ten, with the Dutch World Cup representative currently sitting eighth on the PDC Order of Merit.
World Champion Michael Smith, world number two Peter Wright and 2022 NZ Masters champion Price will headline the eight PDC stars who will all feature in both events.
Reigning NSW Masters champion Clayton will defend his title in Wollongong, while two-time World Series event winner Dimitri Van den Bergh and 2018 Brisbane Masters champion Rob Cross complete the line-up of PDC representatives.
Australia's top two Damon Heta and Simon Whitlock will feature in both events, as the 2022 World Cup winners return to Wollongong's WIN Entertainment Centre – which welcomed an Australian record crowd of 4,000 fans during last year's event.
2022 Oceanic Masters winner Mal Cuming, former PDC Tour Card Holder Darren Penhall and veteran Dave Marland have sealed their spots at the NSW Masters, with a further three Oceanic qualifiers still to be confirmed.
New Zealand's top two ranked players on the DPNZ circuit, Ben Robb and Haupai Puha, will headline the field of home stars taking part in the NZ Darts Masters, with a further four Oceanic qualifiers to be confirmed – including three from the host nation.
2023 US Masters champion Michael van Gerwen and world number six Luke Humphries will miss the August double-header for family reasons.
Tickets for the NZ Darts Masters and PalmerBet NSW Darts Masters are now on general sale.
2023 World Series of Darts
NZ Darts Masters
August 4-5, GLOBOX Arena, Hamilton
PDC Representatives
Michael Smith
Peter Wright
Gerwyn Price
Rob Cross
Jonny Clayton
Danny Noppert
Nathan Aspinall
Dimitri Van den Bergh
Oceanic Representatives
Damon Heta
Simon Whitlock
Ben Robb – DPNZ Number One
Haupai Puha – DPNZ Number Two
DPNZ Q1 – July 1, Christchurch
DPNZ Q2 – July 2, Christchurch
Top-Ranked player on DPNZ Order of Merit on July 2 following DPNZ Qualifiers
DPA Qualifier – Top-Ranked player following Event 21 (July 9)
PalmerBet NSW Darts Masters
August 11-12, WIN Entertainment Centre, Wollongong
PDC Representatives
Michael Smith
Peter Wright
Gerwyn Price
Rob Cross
Jonny Clayton
Danny Noppert
Nathan Aspinall
Dimitri Van den Bergh
Oceanic Representatives
Damon Heta
Simon Whitlock
DPA Q1 – Mal Cuming
DPA Q2 – Darren Penhall
DPA Q3 – Dave Marland
DPA Q4 – July 7, Warilla
DPNZ Qualifier – July 1, Christchurch
Top-ranked player from DPA Order of Merit following Event 21 (July 9)
2023 My Diesel Claim World Cup of Darts
Eissporthalle, Frankfurt
Thursday June 15 (1900 local time, 1800 BST)
Group Stage – First Matches x12
Team 1 v Team 2 from each group
Italy 4-3 Switzerland (L)
Poland 4-3 Portugal (G)
Czech Republic 4-2 Singapore (I)
South Africa 4-2 Spain (J)
Republic of Ireland 4-1 Thailand (E)
France 4-1 Northern Ireland (D)
Belgium 4-0 Finland (A)
Canada 4-2 India (H)
Denmark 4-2 Austria (F)
Germany 4-0 Hong Kong (B)
Australia 4-0 Guyana (C)
Latvia 4-2 New Zealand (K)
Friday June 16
Afternoon Session (1200 local time, 1100 BST)
Group Stage – Second Matches x12
Loser First Match v Team 3
Finland 4-0 China (A)
Philippines 4-1 Singapore (I)
Sweden 4-1 Switzerland (L)
Lithuania 4-1 Portugal (G)
New Zealand 4-1 Bahrain (K)
Spain 4-2 Iceland (J)
Croatia 4-3 Thailand (E)
Northern Ireland 4-0 Ukraine (D)
Hungary 4-0 India (H)
Japan 4-3 Hong Kong (B)
Gibraltar 4-1 Guyana (C)
Austria 4-2 USA (F)
Evening Session
Group Stage – Final Matches x12
Winner First Match v Team 3
Belgium 4-3 China (A)
Philippines 4-1 Czech Republic (I)
Sweden 4-3 Italy (L)
Poland 4-1 Lithuania (G)
Latvia 4-2 Bahrain (K)
South Africa 4-2 Iceland (J)
Croatia 4-1 Republic of Ireland (E)
France 4-0 Ukraine (D)
Canada 4-1 Hungary (H)
Germany 4-0 Japan (B)
Australia v Gibraltar (C)
USA 4-3 Denmark (F)
Saturday June 17
Afternoon Session (1300 local time, 1200 BST)
Second Round x4
France 8-4 South Africa
Sweden 8-5 Canada
Australia 8-6 Croatia
Scotland 8-5 Philippines
Evening Session (1900 local time, 1800 BST)
Second Round x4
Wales 8-2 Denmark
England 8-4 Latvia
Belgium 8-7 Netherlands
Germany 8-6 Poland
Sunday June 18
Afternoon Session (1300 local time, 1200 BST)
Quarter-Finals
Wales 8-5 Sweden
Belgium 8-7 Australia
Scotland 8-0 France
Germany 8-3 England
Evening Session (1900 local time, 1800 BST)
Semi-Finals
Wales 8-7 Belgium
Scotland 8-5 Germany
Final
Wales 10-2 Scotland
Format
Group Stage – Best of seven legs
Second Round – Best of 15 legs
Quarter-Finals – Best of 15 legs
Semi-Finals – Best of 15 legs
Final – Best of 19 legs
All games will be played in a Doubles format.
Draw Bracket – Second Round onwards
(1) England v Latvia
Poland v Germany
(4) Scotland v Philippines
France v South Africa
(2) Wales v Denmark
Sweden v Canada
(3) Netherlands v Belgium
Australia v Croatia
Competing Nations & Pairings
Australia – Damon Heta, Simon Whitlock
Austria – Mensur Suljovic, Rowby-John Rodriguez
Bahrain – Basem Mahmood, Abdulnasser Yusuf
Belgium – Dimitri Van den Bergh, Kim Huybrechts
Canada – Matt Campbell, Jeff Smith
China – Xiaochen Zong, Lihao Wen
Croatia – Boris Krcmar, Romeo Grbavac
Czech Republic – Adam Gawlas, Karel Sedlacek
Denmark – Vladimir Andersen, Benjamin Reus
England – Michael Smith, Rob Cross
Finland – Marko Kantele, Paavo Myller
France – Thibault Tricole, Jacques Labre
Germany – Gabriel Clemens, Martin Schindler
Gibraltar – Craig Galliano, Justin Hewitt
Guyana – Norman Madhoo, Sudesh Fitzgerald
Hong Kong – Man Lok Leung, Lok Yin Lee
Hungary – Patrik Kovács, Levente Sárai
Iceland – Hallgrimur Egilsson, Vitor Charrua
India – Prakash Jiwa, Amit Gilitwala
Italy – Michele Turetta, Massimo Dante
Japan – Jun Matsuda, Tomoya Goto
Latvia – Madars Razma, Dmitriy Zhukov
Lithuania – Darius Labanauskas, Mindaugas Barauskas
Netherlands – Danny Noppert, Dirk van Duijvenbode
New Zealand – Ben Robb, Warren Parry
Northern Ireland – Brendan Dolan, Daryl Gurney
Philippines – Christian Perez, Lourence Ilagan
Poland – Krzysztof Ratajski, Krzysztof Kciuk
Portugal – Jose de Sousa, Luis Ameixa
Republic of Ireland – William O'Connor, Keane Barry
Scotland – Peter Wright, Gary Anderson
Singapore – Paul Lim, Harith Lim
South Africa – Devon Petersen, Vernon Bouwers
Spain – Jose Justicia, Tony Martinez
Sweden – Dennis Nilsson, Oskar Lukasiak
Switzerland – Stefan Bellmont, Marcel Walpen
Thailand – Attapol Eupakaree, Yong Gaweenuntavong
Ukraine – Vladyslav Omelchenko, Illia Pekaruk
USA – Jules van Dongen, Leonard Gates
Wales – Gerwyn Price, Jonny Clayton
Prize Fund (Per Team)
Winners – £80,000
Runners-Up – £50,000
Semi-Final Losers – £30,000
Quarter-Final Losers – £20,000
Last 16 Losers – £9,000
Second in Group – £5,000
Third in Group – £4,000
Total – £450,000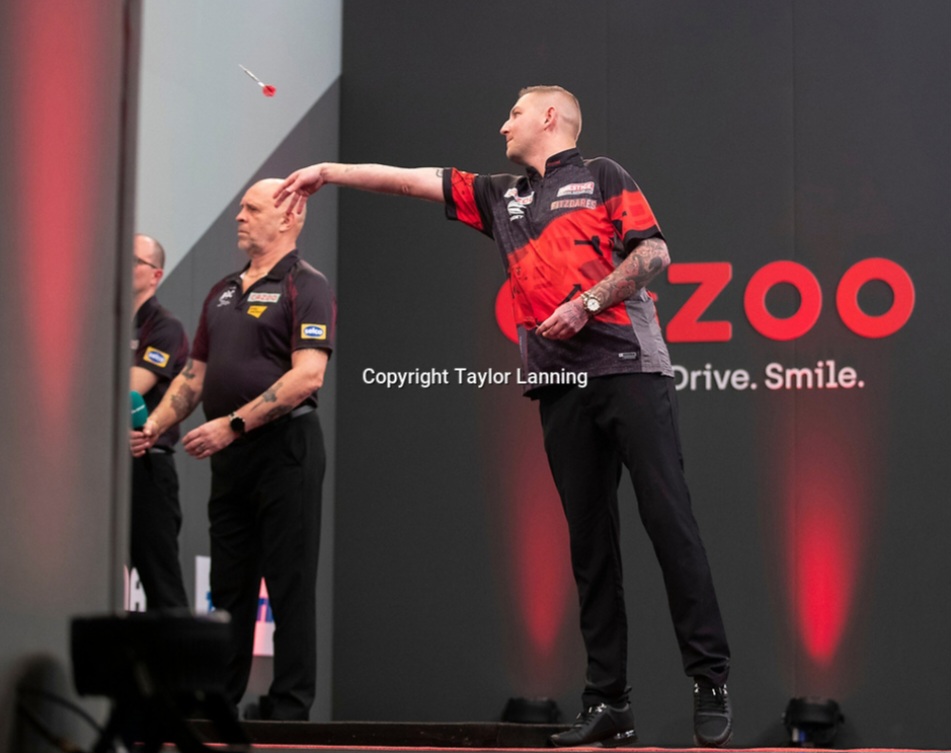 DPNZ Dress Code 
It was so good to see everyone adhering to the Dress Code in Nelson, lets keep it up for Hamilton.
Players must adhere to the DPNZ Dress Code
Black Dress Pants (No Jeans or Cargo Pants or Track Pants)
Black Skirt – is fine for the ladies
Collared Shirt – Polo or Dress Shirt but must have a collar
Black Shoes – NO visible coloured logos, must be completely black, no other colour on them will be accepted.
We have had a few players of late trying to flout the rules and it's not fair on those who do comply.
Please guys all we ask for is consistency.
Dart Connect
DPNZ now use Dart Connect for all tournaments that we run, the ipads are easy to use, so don't be afraid of the technology, there are plenty of players that can show you how to use this fantastic system.  It's very simple and means everyone and anyone can watch matches from anywhere in the world.  Players also get all their statistics from each game.
This is a fantastic edition to the DPNZ tournaments
Dart Players New Zealand – Darts & Parts Shop
We will have a small amount of Darts & Parts at Black Horse Hotel.  If there is anything you require and you want to ensure we have it for you this weekend, then please contact us.
About Author